Powering the future of business networks
Expand your organization's reach with an online B2B marketplace
Connecting manufacturers, wholesalers, distributors and retailers 24/7
Launch your own branded B2B digital marketplace - powered by Balluun
View the clip
Previous
Next
Growing a richer online community
Buyers and sellers thrive on their connections for success. Meeting in person is ideal – but extending these connections to online is a must, and a Balluun B2B digital marketplace is the perfect place for members of your industry to do business around the clock. Whether you're a trade show and events organizer, a business association – or a start-up looking to launch a successful and profitable online marketplace.

Your industry experience, our innovative technology
Connect manufacturers, wholesalers, distributors and retailers – with real-time interaction and 24/7 purchasing in a secure online environment. We start by working closely with you – to thoroughly understand your industry's specific needs. Then we create your dedicated B2B digital marketplace, based on a scalable white-label platform that gives you the ability to fully brand the final product. It's an easy and cost-effective way to expand your organization's reach – in just 90 days.
Launching a mobile-friendly, multilingual marketplace is fast and easy, thanks to our customizable SaaS cloud technology. Our cutting-edge tools are developed in-house, and also include the market's best-of-breed. And the modern user interface will make your members feel right at home, as everyone benefits from: all-in-one B2B digital marketplace, B2B social network, e-commerce and built-in revenue generators.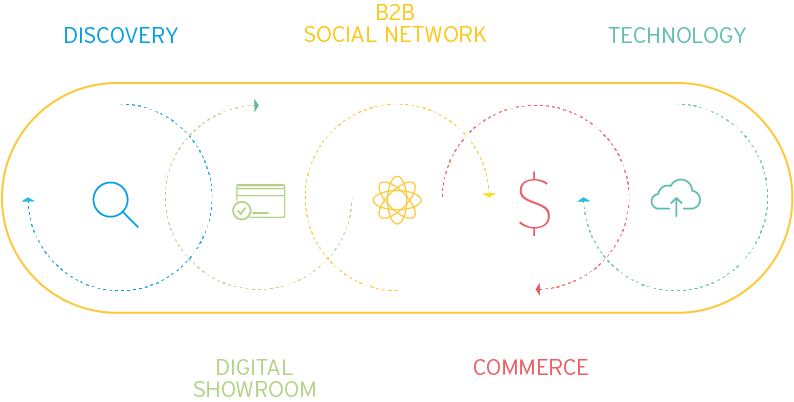 Powering the future of market networks across different industries

Launch your online B2B branded marketplace in 90 days 
CASE STUDIES
Unlocking the full potential of B2B commerce across industries